…here we are guys! After having planned details and route, and having understood that the best thing to do is asking questions as a journalist will do – which I'm not – I approached Paolo and asked him: "are you ready?"…so we decided that he would have 'chased me' with the NineT, and I thought about his 'baby' and making up a joke I asked him how to start the engine and if the fist gear was up or down.. did I tried to make him laugh or maybe to frighten him?…
Previous to begin this "breath-taking test" I ought to knew a bit of the behind-the-scene activity directly from a person so involved with the roots of a "bike that didn't exist!".
The idea comes from Paolo Chiaia of Zaeta. The singular name is easily attributable to the "zaeti" biscuits, a typical product from Padua, that in the past were kindly given to him by a woman. He's so attached to this fact that he decided to give his bikes that name. The company, in which Paolo works, has also a particular and symbolic name, and "Ouroboros" is full of concepts that are conveyed to the bike!…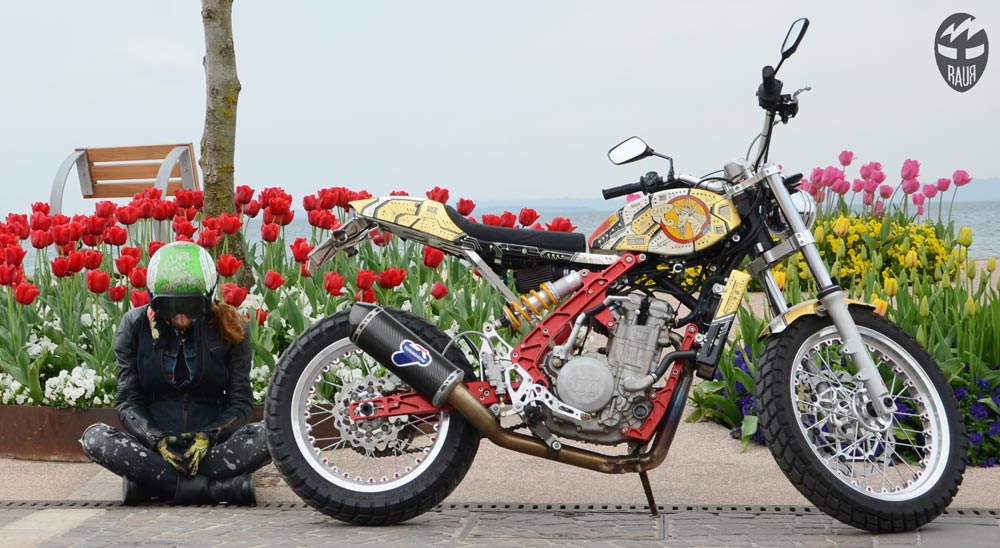 …A real motorcycle enthusiast indeed, a person with a great knowledge on the various motorcycle disciplines and an atypical biker. Paolo pursue the passion to go sideways since when he was a child with a white Piaggio Ciao when he was feeling the lust to slide. It is from this little game and from a childhood dream that he wanted to try the thrill to build a bike that didn't exist! The discipline of braking and skidding sounds simple, but it is quite complicated indeed.
Putting the bike sideways in the ovals of land is a gesture that fascinates, but unfortunately this specialty, in Italy, does not live the same splendour of other motorcycle racing in vogue. We know that American and English people dedicate lot of time and passion to Short Track and Flat Track in their competitions. The environment of these rides is familiar and spontaneous, it is a discipline, where the desire to have fun is a rule!….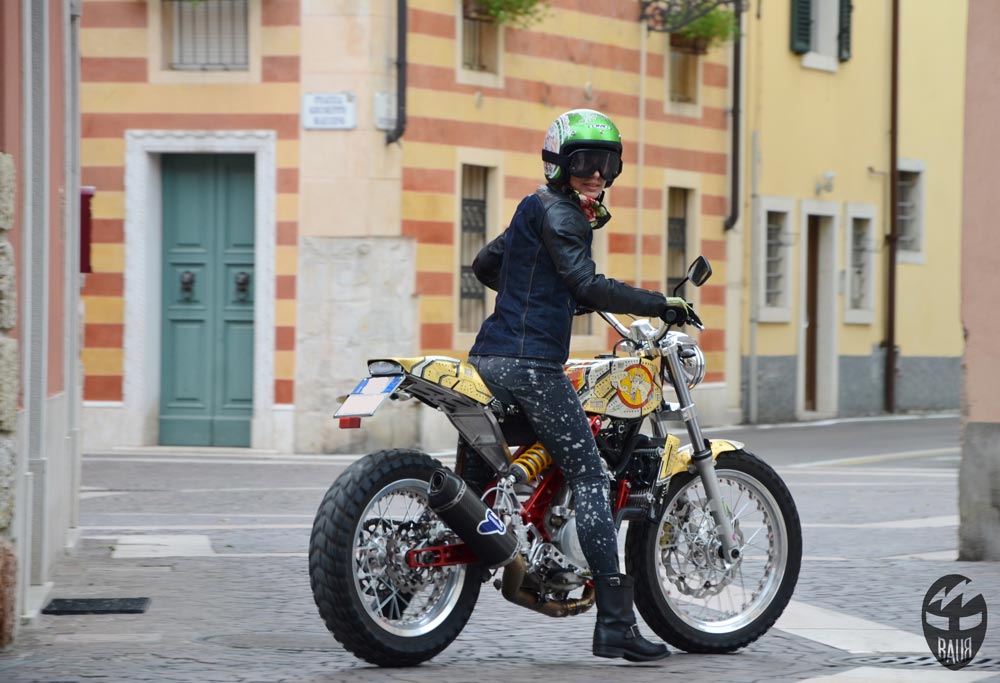 ….Here come into play Marco Belli, and with him the first appearance of a Zaeta in Daytona in 2007, the much-decorated champion in the specialty of Short Track, 3 UK titles, 4 Italian ones and the 2 European ones, which means a lot, and his European title in 2010 with Zaeta. In his first year of competitions, he confirms that the bike goes well and banks very fast! Sure is that a great driver like him and a lover of oval tracks, participates actively in the development of the bike, performing very well on tracks. And if the racing version continues to perform admirably as for example the famous Pikes Peak racer, the road version requires the development and production in small series.
All this does not come by chance and Paolo, in December 2008 at the Bologna Motor Show, meets Graziano Rossi with whom there is a great exchange of views and definitely the certainty of go on with the project.
In the early development stages of Zaeta, Matthew Uliassi joins the firm, a man with pure passion who also puts into this project his business skills…..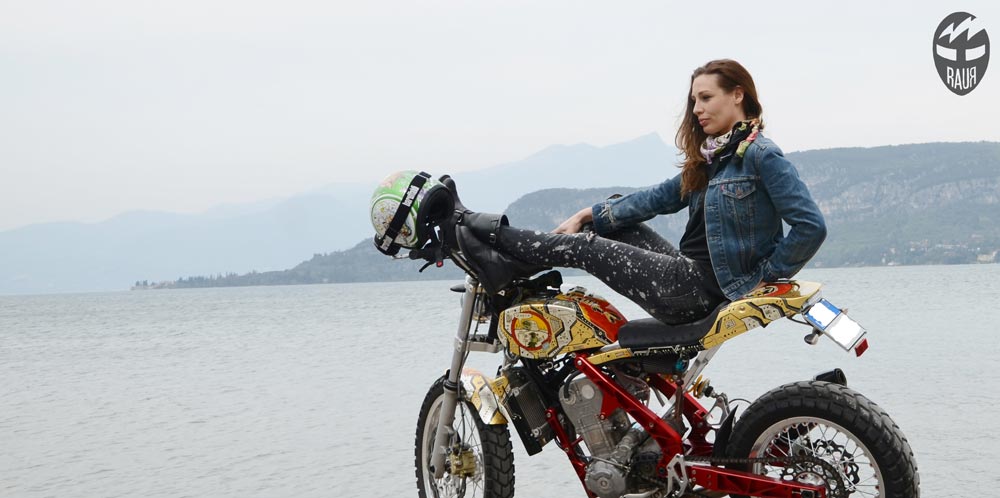 ….They really want to create an entertaining bike, a light motorcycle, treated in each very small detail, but also customisable in look and in some technical components.
In-Motion is involved in determining the progress of the entire project, which is already an established company producing parts for maximum value, such as the Kineo wheels, that is entrusted with the engineering and industrialization of the bike.
In 2013 the bike takes its final version, and here is the road version!
Finally the long-awaited trial, and with the Zaeta leaving from Lazise, (beautiful town situated along the eastern shore of Lake Garda), we continue for a hundred miles through the hills to test its skill and its handling road version.
In fact, since the first moment this 'minimalist rocket' might seem suitable only for racing, but this road version, homologated Euro 3, is perfectly suitable for city use too, and even more for us women, because of its light weight of only 115 kg in the direction of travel and the adjustable seat height of only 800 mm (-10/+20mm). It could become a source of immense emotions!…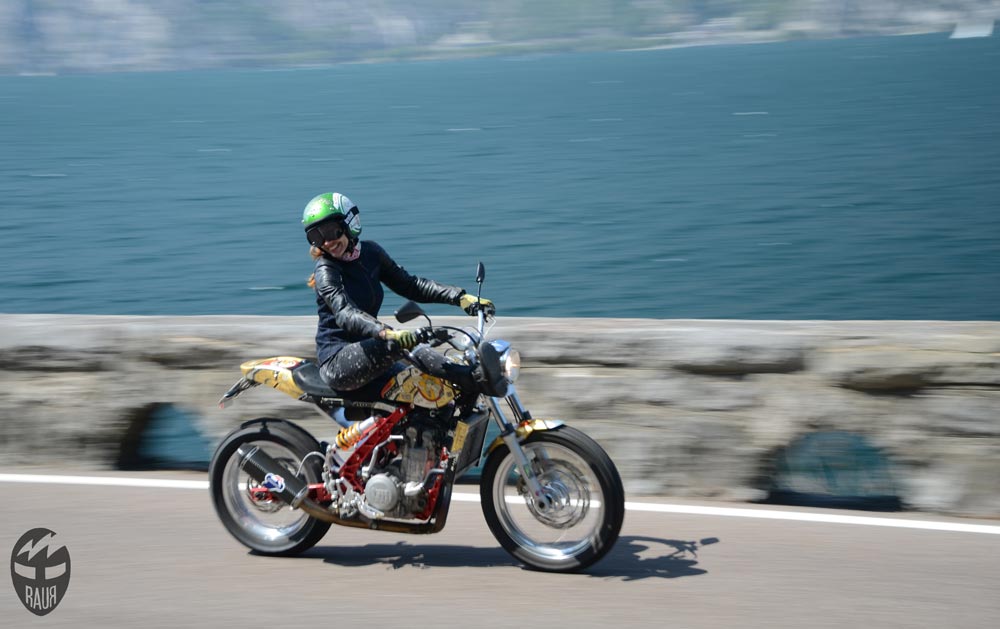 ….After having ride for a few kilometres, you feel like giving gas, widening its 5 gears to feel like pushing this powerful single-cylinder TM 530cc 4- liquid-cooled valve, and its 60 hp are a lot, and even the most experienced drivers are required to have good caution for how and when giving gas!… it's really easy to be in mono wheel or to have the wheel skating! The power to weight ratio of this bike makes it bad, but it is also docile when dosing the gas with delicacy!
This version was made for Paolo by the well- known English artist Maxwell Paternoster. With its catchy lines combined with its beautiful body and its valuable components, does not allow you to go unnoticed; it is for a motorcycle connoisseur and not for all budgets!
All this is set by the open cradle aluminium frame, machined from solid, as well as the adjustable steering plate.
We made the first short break in Bardolino, then, we passed the parkway where the beats were gone to a thousand! Frightened?! No, only sudden acceleration, in fact, most of the times I couldn't see Paolo and Albi (staff) from the rear-view mirrors…..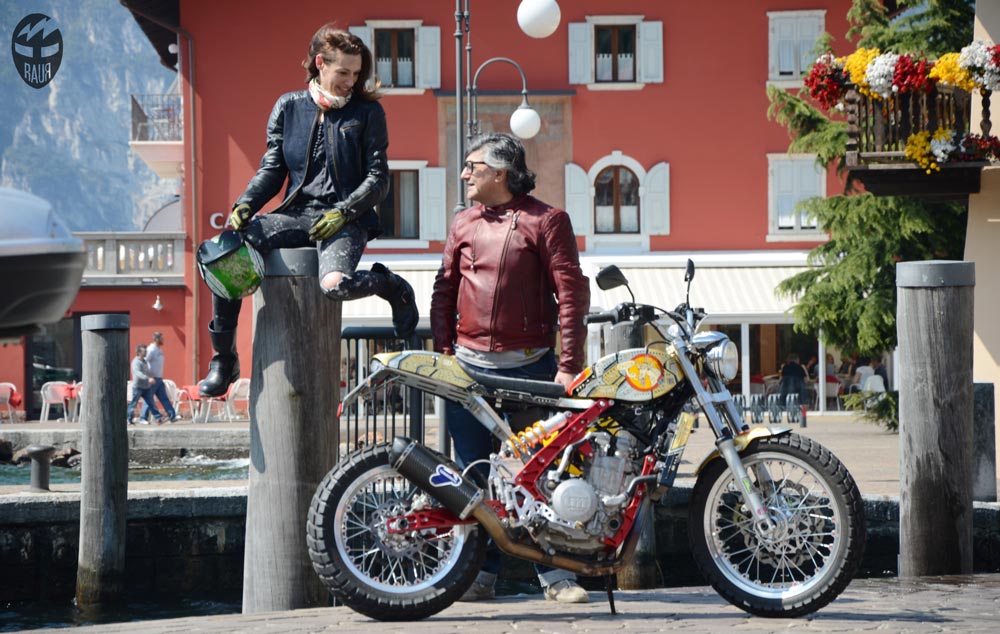 …..In this small village, unfortunately or fortunately, everyone were looking at me and were hearing the noise of the bike at the same time. The Termignoni exhaust has a first class and distinctive noise.
A break to take a few shots and chat a bit sharing the first impressions…just here looking at Paolo I understood that he started to trust me…and my smiles were expressing a lot of what could seem easy to tell, but I simply stated: "it is a bomb! everyone should have a bike like this, starting from us women!". I was charged more than ever, nothing was stopping me from going round and round, very easy and fast manoeuvres at very low speed too, I have never found a bike so light, it seemed to be on a bmx. The wheelbase is short enough, and the Vibram coated saddle allows a comfortable position and at the same time allows you to keep your chest in an almost relaxed position. Wide handlebars and arms stretched out enough to give you maximum control in all driving conditions!
The Showa fork of this version, and the Ohlins rear shock absorber was up to the performance I could get during the test ride, the mono was a bit too hard for my weight, but in any case when I got familiar with the 'Zaeta it became just fun!
The motorcycle instrumentation is minimal, enough to have everything you need, from the kick starter and the multiple push-button panel controlling lights and arrows, while the small odometer with its lights is centrally mounted on the plate that stops the handlebars and it's also machined from solid. So, we have all the essential and we just leave out all the unnecessary weight!
This bike gave me an extraordinary confidence, it allowed me to ride it in "motard style" or if you prefer "cross style", leg forward and banking with a safety mind-blowing, the knobby tires for an on-off use have hug the road well, even if sometimes I was just banking too much!…it is provided with tyre variants and each person can choose what they prefer. I would consider it with rain tyre, in any case they are fixed on beautiful tubeless Kineo wheels. The same consideration applies for the road setting driving. Great confidence given by the chassis and by the distribution of the weights. I'll stick to my idea of keeping a motard style aggressive driving; the feeling of entering bends and aggressively letting off the throttle is thrilling. When the rear starts to slip it's the time for maximum hoot… Surely, doing it on the road could lead to some risk, therefore always take care. In all driving conditions, the bike supports you in the front with Brembo pump and a 320mm floating petal discs brakes with twin-piston Brembo, and at the rear, allowing you to do stunt manoeuvres, there is a 240mm hard petal discs brakes with single-piston and pump with integrated tank, excellent braking.
In Torri del Benaco, another short stop-over, in a beautiful setting with its characteristic Castello Scaligero, a very charming frame that fits in perfectly with the emotional appeal that I feel for this spectacular and powerful "bike".
Our journey continued north through Malcesine arriving at Torbole, turning left and right to some of the side streets going up hills on the bank of the Garda Lake, where there was the excellence of what we could handle. I had lot of fun changing gears, right here where me and Zaeta become a special bond.
In Torbole the dutiful break for a light lunch and some well-deserved shots with Zaeta and Paolo, with whom we were just having such fun! Perhaps at this point his confidence in my driving ability was definitely changed to the point that he almost wanted to give it to me as a gift … just joking!
The tour was about to conclude, and there I really wanted to believe given how Zaeta made me move, its sudden acceleration I have revived the sensations of skydiving, adrenaline actually, control should not fail because the power could become anything!
The clothing chosen for this almost urban tour was an Alpinestars jacket and jeans with fashionable leather caps, green glittery and airbrushed DMD helmet and a seventies motorcycle mask Baruffaldi, a giant red and black pashmina to cover my face, especially in longer journeys, and the floral silk Dolce & Gabbana scarf, I opted for the technical motocross gloves Alpinestars for sure grip of, inseparable Walker boots, stained and ripped skinny jeans … all because many women want to feel beautiful and admired even when, in their own style, they go in motion!
And then, unfortunately, the time to load the Zaeta of Paul on his Zaeta-mobile and in the most simple and funny way I tried to separate myself from her, "with a smile!" … A beer and a chat and promised to keep in touch maybe for a racing challenge, with Zaeta friends! … see you soon … Babila
| jacket ALPINESTARS | shirt MAURO GRIFONI  | jeans ZARA | gloves ALPINESTARS | back protection DAINESE | mask BARUFFALDI | boots WALKER | helmet DMD | photo by ALBI | motorcycle ZAETA  | SPECIAL THANKS to  PAOLO CHIAIA |