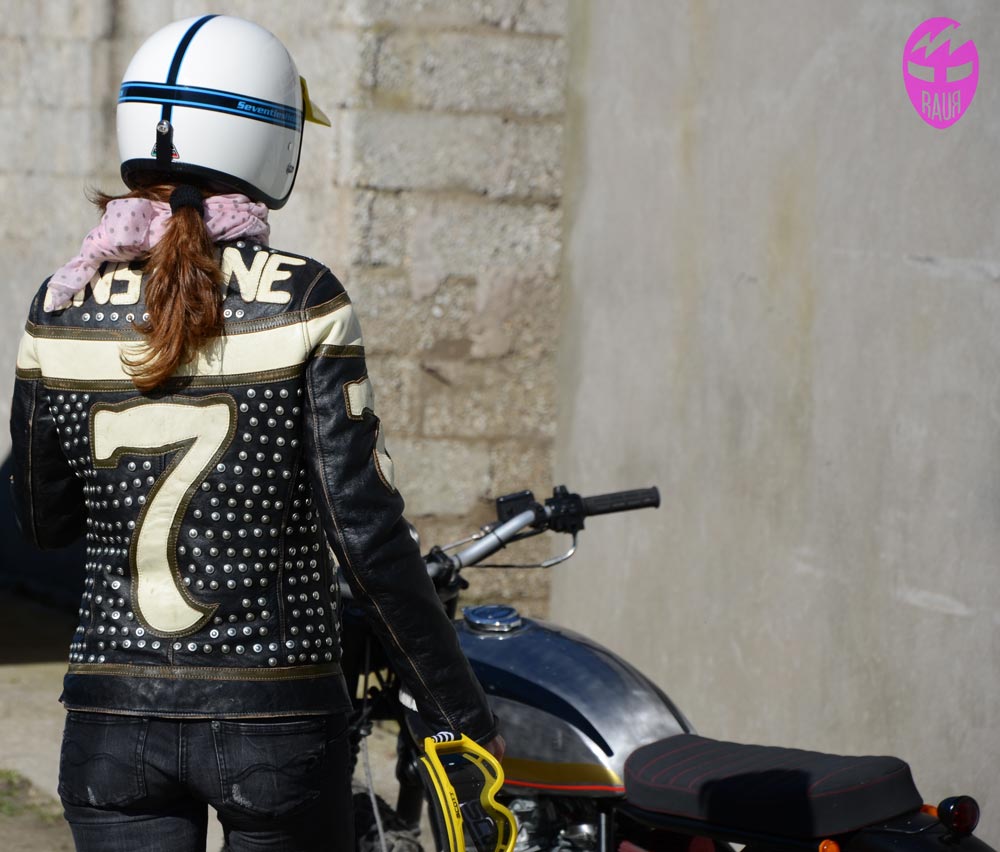 Il test di oggi è dedicato alle tassellate e al loro lifestyle. In questi ultimissimi anni piacciono molto queste moto chiamate scrambler, street scrambler o flat scrambler, ma delle quali è sempre abbastanza variegata e soggettiva l'interpretazione della loro filosofia. Sono moto che con semplicità vengono customizzate e rese usabili da tutti, con questi esemplari si unisce una dinamica di stile che rende unico anche chi la guida.
Oggi parliamo della Kawasaki Z400 del 1982 by North East Custom, moto che risulterà essere, nella sua semplicità, molto bella! Questa street scrambler nasce da un Kawa Z400 seconda serie che in realtà è stata abbastanza sconvolta a partire da una cura snellente in quello che i fratelli Diego e Riccardo hanno ritenuto superfluo. La colorazione è di base nera, il serbatoio è stato trasparentato su metallo spazzolato a vivo e sul quale è stata aggiunta una grafica sobria con due baffi nero oro e filetto rosso. Il serbatoio che hanno montato, i cerchi a raggi, il faro ed il contagiri sono della Kawa KH 400 del '76, e sono stati aggiunti i soffietti agli steli della forcella. Le staffe faro sono artigianali, la pompa freno anteriore è derivante da una Moto Guzzi California, il manubrio è di un cross Honda CRF 450 '13, e proseguendo nella considerazione estetica e tecnica della moto, vediamo che in ottimo stile old school hanno montato una sella in similpelle lunga, bassa e nera con doppie cuciture rosse che risaltano e si abbinano con gli altri particolari dello stesso colore, come i filtri BMC montati sui carburatori. La batteria è stata spostata molto in basso e il telaietto posteriore accorciato di 10cm. dove con gusto sono state inserite delle piccole frecce di derivazione automobilistica. Il parafango posteriore è corto con fanalino piccolo e tondo, mentre il parafango anteriore qui non c'è ancora, ma vista l'utilità, che avrebbe avuto anche nel mio test, i ragazzi mi hanno assicurato che sarà montato. Gli ammortizzatori posteriori sono originali ma verniciati di nero. Una cosa che balza naturalmente all'occhio sono gli scarichi che rifiniscono l'interpretazione e la filosofia della moto, banda termica sui collettori con terminali molto corti e naturalmente artigianali, a completare la sua natura scrambler ci pensano due gomme Heidenau K60 ovviamente tassellate!
La descrizione della moto è doverosa ma è chiaro che una parte fondamentale nell'interpretazione di una filosofia motociclistica è il test della moto, e con lei ne ho avuto una ottima possibilità. Sono partita per il mio giro su asfalto e nello sterrato, e vi assicuro che il risultato è stato molto soddisfacente. Ho guidato con il sorriso e con molta semplicità questa special, che nel motore è gestibilissima, pochi cavalli e di facile erogazione, ha un impianto frenante che non ti assicura staccate estreme ma per l'uso che se ne può richiedere ad una moto così è più che sufficiente. Il divertimento per me si è amplificato percorrendo alcuni argini e delle stradine nella campagna padovana, dove erano ancora evidenti i segni di una precedente pioggia, qui disastrosa. La moto si è dimostrata molto maneggevole con un baricentro abbastanza basso, ti permette di accelerare e stare in piedi tranquillamente sulle pedane e dato il peso ridotto è una cosa agevole e divertente, ma sicuramente da considerare con attenzione nella guida sullo sterrato sono le buche profonde e il terreno molto sconnesso, perché l'ammortizzazione originale non è stata modificata. La risultante di questa prova è che consiglierei una moto di questo genere a qualsiasi persona che si vuole divertire con naturalezza, i maschi soprattutto nell'uso "scrambler" sono sempre avvantaggiati ma è sicuramente molto adatta a quelle donne che vogliono fare la passeggiata in città, la gita fuori porta e magari fare percorsi anche più lunghi, basta interpretare con gusto la filosofia e lo stile di questa tipologia di moto.
Io ho, infatti, abbinato un giubbotto di pelle esageratamente borchiato che richiama la fine degli anni settanta, un casco jet con frontino come usava spesso il mitico Steve McQueen, dove ritengo obbligatorio l'uso di una maschera da cross con linee classiche, che oltre ad essere bella e un'ottima protezione da fango e detriti. I pantaloni che ho indossato sono dei semplici jeans neri, li ho preferiti sobri per non essere eccessivamente colorata e perché la giacca è già abbastanza appariscente. Il foulard dal colore molto femminile è rosa a pois, un accessorio utile e che si abbina sempre molto bene! I boots sono molto classici e neri.
La descrizione del mio test & style della Kawasaki Z400 by North East Custom, non può assolutamente mancare nella presentazione doverosa degli autori e ideatori di questa realtà fuori dagli schemi.
Coppiello è il cognome dei fratelli Diego e Riccardo, rispettivamente di 30 e 25 anni, indicazione è significativa proprio perché ci fa capire quanto in questo caso conta la passione e l'attaccamento a tutto quello che ha un motore e delle ruote, ma ancora meglio se sono due! Fin da giovanissimi Diego e Ricky hanno iniziato ad essere attirati dalle modifiche e dalle elaborazioni, e le corse spensierate in sterrati e stradine vicine a casa sono state funzionali al fatto che i ragazzi si appassionarono alle corse e alla meccanica. Della loro abilità nell'aggiustare ed elaborare, quello che anche i loro amici portavano nel garage di famiglia, in quella che è stata la prima sede creativa, hanno iniziato a maturare l'idea che i sogni si possono trasformare in realtà! La loro storia non è solo questa perché il loro curriculum è composto per entrambi da qualche anno passato nel mondo dei kart dove hanno approfondito la passione per l'elaborazione e per le gare. Mentre Ricky ha proseguito e continuato ad affinare la professione di meccanico, Diego frequentato la Scuola di Design dove ha coltivato il gusto per l'estetica e l'ha proietta nelle motociclette. Non a caso il cross, che è poi lo sport prediletto dei fratelli Coppiello, e l'enduro hanno influenzano la loro tendenze. La loro storia sboccia da tanta passione e da numerosissime idee, con la customizzazione di moto anticonformiste dalle linee decise e a volte pure spigolose, e questo insieme di fattori hanno fatto esaltare quello che io ho chiamato il "fenomeno North East Custom".
Da qui si evidenzia che un ingrediente fondamentale della loro gustosissima ricetta è l'unione e la sinergia che Diego e Ricky hanno insieme. Si capisce che non scherzano più in un garage dietro casa, ma vogliono crescere e affermarsi. Proprio per questo insieme e da pochissimo hanno deciso di aprire i cancelli della loro nuova realtà, un'officina che per loro sarà anche un ambiente dove assoceranno con gusto anche l'arredamento, il tutto sempre con un'inclinazione vintage. La nuova sede è ciò che ogni appassionato di moto vorrebbe avere. E quello che qui fa più piacere, è vedere che c'è una folta schiera di moto in attesa di essere customizzate.
Il test della moto e la visita ai ragazzi di North East Custom mi hanno nuovamente reso felice perché moto, passione e stile, insieme, godono sempre di una grande armonia e in questa giornata mi sono divertita nel vivere ciò che mi delizia!
Grazie, e mille complimenti a Diego e a Riccardo, ai quali mando un abbraccio e raccomando di continuare a coltivare la passione per le moto e per il gusto nello stile…sicuramente ci rivedremo!
A tutti voi un bacio e a presto,  Babila.
Today's test is dedicated to the tessellated ones and their lifestyle. In the last few years we've seen a great deal of these motorcycle called 'scrambler', street scrambler or flat scrambler, although their interpretation is quite different and subject to a personal reading as far as it concerns their philosophy. They're easily customisable and made for everyone to ride. They come with a dynamic style giving a personality to the person who rides it. Today I'm going to talk about the 1982 Kawasaki Z400 by North East Custom. A very beautiful motorcycle in its simplicity! This street scrambler was made from a Kawa Z400 second series that in fact is overturned enough starting from the removal of what the brothers Diego and Riccardo considered superfluous. The colour is black, the tank was made transparent on brushed metal on which plain graphics was added with two black and gold horizontal lines and a red thin line. The tank, the spoked wheels, the light and the rev counter come from the 1976 Kawa KH 400, and the fork tubes bellows were added. The stirrups of the light are tailor-made, the front break pump comes from a Moto Guzzi California, the handlebars are of a 2013 Honda Cross CRF 450, and aesthetically and technically valuating it, there is also a long leatherette seat in a great old school style, low and black with double red seams that stand out and match with the details of the same colour, like the BMC filters assembled on the carburettor. The battery was lowered and the back frame reduced to 10cm. and with taste were inserted some small turn signals coming from cars. The back mudguard is short with a small and round tail lump, while the front mudguard is not on yet, but as it's useful, and as it'd have been useful in my test too, they'll assemble it shortly. The back shock absorber are original but black painted. Something that catches the eye naturally are the exhausts that complete the interpretation and idea of the motorcycle, a heat tape around the intake manifold with short handicraft endings, and to accomplish the scrambler natural style are two Heidenau K60 tires clearly tessellated! The motorcycle description is a must but it's clear that an important part on the understanding of the motorcycling approach is the test itself, and with it I had a great chance. I left for my ride on asphalt and dirt patches, and I swear I was very pleased. I was riding this special motorcycle in a very easy way and with a smile on my face. It has a very manageable engine, a few horsepower and an easy distribution, its breaking system doesn't guarantee extreme outrunning but for the way such bike is supposed to be ridden it's enough the way it is. The fun was intensified riding through some river banks and small roads in the countryside of Padua, where still visible were the signs of the heavy rains of the previous weeks, a real disaster. The motorcycle was very handy with a barycentre low enough allowing me to accelerate and stay standing with the feet on the platforms, and considering the reduced weight, it's something easy and entertaining, but surely on dirty roads the deep holes and the very bumpy land has to be taken into account, as the original cushioning has not been modified. At the end of this test I will suggest such motorcycle to whoever wants to have fun indeed. The boys are always advantaged when riding a "scrambler" but it's certainly very suitable for girls who want to ride on a city centre, or going for a trip outside and maybe taking even longer paths. All you have to do is to interpret with taste and the right philosophy the style of this type of motorcycle. I matched a leather jacket exuberantly studded recalling the end of the seventies, a jet helmet with front element as Steve McQueen used to wear, but I consider also necessary the use of a cross classic style googles mask, that beside being beautiful it's also an excellent protection from mud and rubbles. I wear plain black denim trousers, I prefer them basic not to look excessively colourful as the jacket is already sufficiently eye-catching. The scarf is pink with white dots, a very useful accessory that goes very well with almost everything! The boots are black and classic. My test & style description of the Kawasaki Z400 by North East Custom, cannot miss the respectful introduction of the authors and creators of this unconventional reality. Coppiello is the surname of the two brothers Diego and Riccardo, 30 and 25 respectively, the clue is significant as it makes you understand that in this case what count the most is the passion and attachment to what is made of an engine and two tires, but even better if they are two of them! From an early age Diego and Ricky began to be attracted by the customisation and modification. The carefree rides on dirty and little roads close to where they live were functional to the fact that the guys became passionate on racing and mechanics. Since when they started to repair and modify what their friends were bringing to the family garage, in what was their first creative location, they started also to develop the idea that dreams turn into reality! Their curricula history also include experience with karts where they developed the passion for races and modify bikes. Ricky followed the profession of mechanics, while Diego went to a Design school where he pursue the taste for the aesthetics projecting it in motorcycles. The motor cross and the enduro, that is the favourite sport of the two brothers, really influenced their inclinations. Their story is made of lot of passion and many ideas, with the customisation of maverick motorcycles by the striking lines and sometimes even sharp-cornered, and all these factors enhanced what I called 'the North East Custom phenomenon' . Hence we note that the main ingredient of their tasteful recipe is the union and synergy that Diego and Ricky share together. It is understood that they are not joking any longer in a garage behind their house, but they really want to grow and establish themselves. For this very mishmash and not long ago they decided to open the gates of their new reality, a workshop that'll be an environment where they will arrange also furniture with a sense of taste, entirely with a vintage inclination. The new venue is what every motorcycle fun would love to have. And what gives the greatest pleasure is to see that there is lots of motorcycles waiting to be customised. The motorcycle test and the visit to the North East Custom guys has made me very happy, because motorcycle, passion and style all together, are an amazing harmony. I really had great fun in experiencing what really delights me! Thank you very much. Many congratulations to Diego and Riccardo, to whom I send a hug and just carry on doing your best and continue to grow the passion for motorcycles and the taste for style…We'll definitely meet again! A kiss to all of you! See you soon, Babila.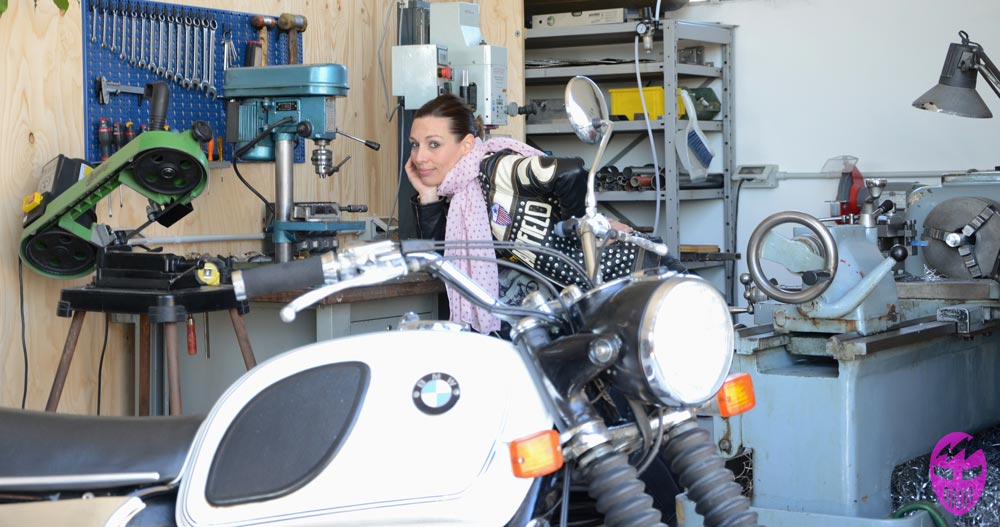 | leather jacket SPYKE | t-shirt CARAIBI ROCKERS | jeans BLACK | scarf PINK POIS |gloves ALPINESTARS |  boots WALKER | mask SCOTT | helmet SEVENTY'S | photo by ALBI | motorcycle KAWASAKI Z400 '82 by NORTH EAST CUSTOM|